Kategori
Artikel Populer



Apakah anda kesulitan mengendalikan apps pada ponsel a...




Pushbullet adalah layanan yang bertindak sebagai jemba...




Menjadi "Entrepreneurs" dalam bidang teknologi sangat coc...




Saat ini Samsung dikabarkan akan bersiap-siap memperkenal...




Perkembangan smartphone semakin gencar tiap bulannya. Ham...




.

,

Anda mung...




Sebuah surat yang dikirim Nokia kepada supplier mere...
Remote your Android Device through Laptop with Vysor
By : CreasoftLtd | Publish : 01/08/2016 12:00:00 Bahasa Version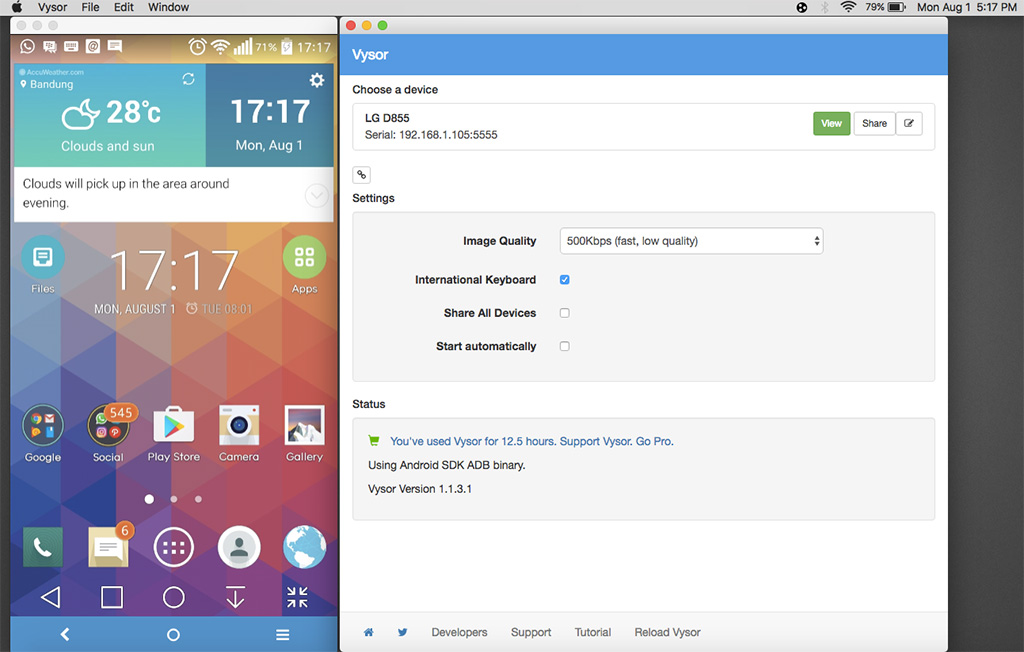 Ever get bored of using apps with the small screen on your smartphone? Do you prefer see your laptop's screen instead of your smartphone while at work ? It's quite pain in the neck, if you really focusing on your work, but also don't want to miss out the notification on your android device.
If you're an Android user, there's now a solution. You can duplicate your Android device's display on your desktop with a new Chrome extension called Vysor. It is just simply piece of cake for installation. You need just install the app on Play Store google, then access webstore Chrome to add vysor to your desktop.
The extension was first leaked on Reddit and its creator, Koushik Dutta, an established Android app developer, has now set up a website for users to download Vysor. If you wanto to support the development, so please become a pro user by buying the feature either monthly, annualy or lifetime.
You get so many advatage with pro version. You can share android's screen into several desktop, resolution on desktop is very sharp and reliably fast, wireless connection is possible during remoting (no usb cable needed). File sharing is really possible in pro version.
Vysor is the answer of all prayers, it helps peoples who typing out long messages on a smartphone screen and prefer the control of a keyboard or want to play games on a larger screen.
Good news for rooted user, with ADB Konnect from play store, you can activate wireless connection for free with vysor. SuperUser capable to emulate ADB server connection then provide bridge without usb cable.
Download Chrome extension from below link :
comments powered by

Disqus
Artikel berhubungan lainnya
Layanan Pelanggan